Winter / Spring Schedule:
Friday, February 6th
Friday, March 6th
Friday, April 3rd
Friday, May 1st
The RetroDance is normally on 3rd Fridays:
Friday, January 16th
Friday, February 20th
Friday, March 20th
Friday, April 17th
These exciting and flirtatious dances are the ones you saw in the Jane Austen movies.  All are invited – no partner or previous experience needed.  There is no lesson, and figures are taught as needed.  Easier dances at the beginning of the evening lead up to more elegant and graceful dances by the end of the evening. 
Generally 1st Fridays. For more info, call 303 321-2262. 8:00 - 11:00 p.m., adults $10, teens/students, $6, family rate, $25.

8:00 - 11:00 p.m., at the Berkeley Community Church, 3701 West 50th Ave. in Denver (near Regis).
April 3rd — Chris Kermiet teaches to live music by Rodney Sauer & Sandra Wong.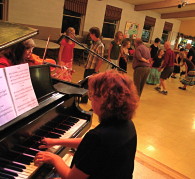 ---
if you'd like to be on our mailing list and get an email reminder about upcoming dances.
---
Colorado Springs March schedule:
March 2nd, 16th & 30th, at the Rock Ledge Ranch Carriage House, located within the Garden of the Gods, (driving directions), 6:45 - 8:45 pm.  Cost: Donation to the Rock Ledge Ranch.
March 9th & 23rd, at the International Dance Club, 6:45 - 8:45 pm, $6.   Located at 2422 Busch Ave, 80904 (go past the building, turn right on Race, then right again into the back downstairs parking lot. The dance is in the upstairs ballroom.)